Valentine's Day shopping for your home enthusiast doesn't have to be hard!
Allow us to guide you through this year's best Gift Sets and who they're built for! Whether you have your own personal chef to shop for, the mindful mystic, or the spa lover – we have something for you. Encourage their passions with these intentional gifts and watch their soul sing with joy.

This gift is for the chef of your home, the entertainer, the toastmistress of your abode. Your partner will be thrilled to serve and decorate with these beautiful details, and your guests will be talking about their love of your home for years to come! The Heartbeat Tea Towel invites love into every dish, the Valdes Wine Glasses inspire your chef to try new things with joy, and the Dolce Tray is fit to serve any cheese platter or display of luxury candles.
Hosting or house to yourselves, this will be a night to remember. 

The Morning Intentions gift set is ideal for your favourite sun gazer. The person in your life who appreciates the small things, journals to know themselves better, and who is eternally grateful for life. Encourage them to spend their mornings in the sun, sipping piping hot coffee from love-inspired mugs. They will be covered in a luxurious, thick Kantha stitch throw blanket paired with a lovely heart linen pillow.
The slow, intentional breath and morning routine will incite wisdom and peace throughout your whole home. 
The Spa Day gift set is our favourite to give! Why? Because who doesn't love dedicated, rejuvenating 'me-time'? Almost anyone will be enthused by this mindful gift set, it's a permission slip to leave responsibility behind and just be. They can soak in the comforts of their own presence or pour a bath for two! This Valentine's Day is the perfect chance to allow stress to melt away into a steamy bathtub, surrounded by heart-shaped candlelight and a soapstone heart bowl for cleansing away that residual energy that no longer serves.  A sultry soft bath mat will greet your feet on the way out, making for a dreamy experience. The heart bowl is also the perfect place to put precious jewels so as to keep them safe while soaking in heaven.
To up the luxury on this gift set, we recommend getting your loved one the SOAK bath salts from Exhale. Art. Crystal. Home. This will truly allow all the bad energy to wash away and recharge their system so as to take on the world again.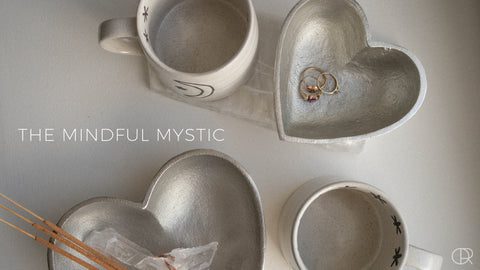 The Mindful Mystic is a set for the lover of rituals and the cosmos. For the one who is inspired by the sun and the stars, celestial grandeur, and unimaginable magic. Inspire your loved one to become their own personal alchemist; transmuting thought into intention and intention into reality. Watch their routine hold so much more power while sipping from cosmos inspired mugs and matching heart dishes. Perfect for smudging, saging, cleansing, protecting; holding precious jewels or sage sticks, these sweet love bowls will be appreciated. 
Pet Cookie Jar, Bone Mat, and Bowls 
Is your valentine a furry friend? Treat your fur-family too! They will feel the love with a fresh update to their routine and you can still maintain a stunning interior. 
Sunshine and Moonlight Coffee Mugs 
Do you and your partner fit like yin to yang? Like night and day? Symbolize this kismet connection with the Sun and Moon matching mug set. Spend your mornings together sipping in balance – what a great start to the day.
Amber Scented 6-Wick Candle 
Do you have a candle lover in your home? The Amber 6-Wick Candle is a luxurious gift that will last a long time. The comforting scent of Amber will drive peace to a maximum and stress to a minimum. 
Olivia Rhain Home Gift Card 
What if you have the hardest person to shop for?? Not to worry, a gift card should do the trick! This way your special someone will get the gift of choice and something they love!
So to round it all up, you really can't go wrong with whatever you choose to gift, as long as there is intention and it's timely, we're sure that your special someone will appreciate anything to unwrap this Valentine's Day. It is the thought that counts and the time spent together that's most important after all.
As a thank you for reading this here's a gift to you for a little less stress – use this promo code for 15% off any of the mentioned items in this gift guide! (Discount does not include the gift card)